Victor Cadillo Biography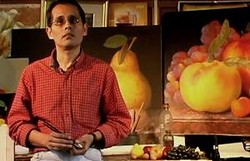 Victor Cadillo
| | |
| --- | --- |
| Born | 1968 |
| Birthplace | Lima, Peru |
| Home | Lima |
| Style | Surrealism and Realism Romanticism |
Throughout his childhood, Victor Cadillo's father instilled in him an appreciation for the arts, especially architecture, music and the beauty of natural influences that would eventually define his works.
Cadillo would complete his academic studies at Lima's National School of Fine Arts, specializing in painting and precise drawing, mastering an exquisite technique that would give his gigantic fruit still lifes a delicate, voluptuous—almost sensual--quality.
His paintings possess a baroque rhythm. A manifestation of Magical Realism where the fantastic, the mysterious and the real can coexist.
The work of Victor Cadillo, who signs some of his paintings as "Del Castillo", has gone through a process of various stylistic trends and painting techniques until it is now grounded in the genre of Still Life Surreal which is made him one of South America's most collectible artists.
He has used various technical and material resources, but prefers working in oils on canvas. He paints daily in his studio in Lima, exhibiting in major art galleries there, Peruvian embassies throughout the world, and now in the Roger Yost Gallery.