Valery Gromov Biography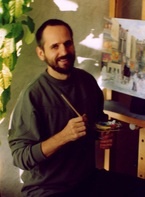 Artist Valery Gromov
| | |
| --- | --- |
| Born | 1964 |
| Birthplace | Kovrov, Russia |
| Home | St. Petersburg Russia |
| Style | Impressionist |
Born in 1964, in Kovrov, Russia. Valery Gromov, A.K.A. Jerome Valery, was the great-grandson of an accomplished artist. Surrounded by the art of his relative, regaled with stories that related the paintings to specific areas of his own childhood experiences, he studied the subjects captured on canvas, learning what inspired his great grandfather.
Graduating from the Donetsk Art College in 1983, he began to work as a designer at the Donetsk Art & Décor factory, creating decorative art for the private sector,official buildings and public spaces, but still painting for his own satisfaction. Later participating in The "Young Artists' Exhibition" in St. Petersburg, Russia, a professor from St. Petersburg Academy of Art encouraged him to begin preparations for the Academy's entrance exam. In 1993 he was accepted as a student of an esteemed Professor Kichko, participating in annual exhibitions for the Academy's students during his five-year studies.
Valery's own life was lifted when he met his future wife. She lived with her parents in a small military town just outside of St. Petersburg and brought to his life much needed peace, beauty and love. They married and have two daughters, Lubov ("love" in Russian), and Irina ("peace" in Greek). Gromov continually learns from their excitement in the world surrounding us. He learns anew how to get carried away by their love and curiosity.
Starting in 2000 Valery Gromov has participated in numerous group exhibitions in Marseilles, Strasbourg, St Petersburg, Nant, Paris, and many other European cities. It is with great pride that we now introduce him the United States of America.