Tim Rogerson Biography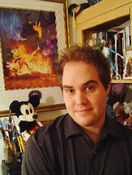 Tim Rogerson
| | |
| --- | --- |
| Born | |
| Birthplace | Florida |
| Home | Sarasota |
| Style | |
As an emerging artist with his own inimitable style, young Rogerson casts people in social settings with energy and passion. Inspired by the works of Edgar Degas and Malcolm Liepke, the North Carolina native has embarked on an artistic journey that has taken him from Degas to Disney.
Rogerson was accepted as a student at the prestigious Ringling School of Art and Design in Sarasota, majoring in Illustration. "I was a very traditional art student and explored all the works from the old masters to modern art," says Rogerson. "My influences also include John Singer Sargent, with his perfect, confident brushstrokes."
While studying at Ringling, Rogerson gained the reputation as an artist and influence in his own right. His unique style was recognized when he was awarded the 2003 and 2004 Best of Ringling Awards.
After graduating from Ringling in 2004, Rogerson has become a prolific professional artist. He is currently engaged in creating imaginative imagery for the popular Disney Fine Art portfolio, and more recently created a piece for Disney's new Pixar Collection.
"My work will always evolve, becoming more complex and detailed," says Rogerson. "I want my paintings to celebrate life and stay fresh ... my joy comes from the challenge of creating something entirely new."