Taras Loboda Biography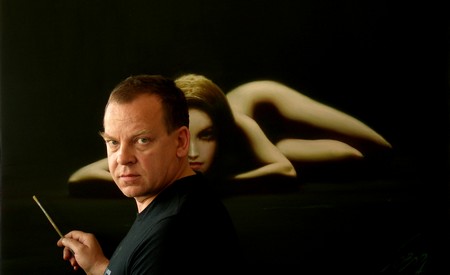 | | |
| --- | --- |
| Born | 1961 |
| Birthplace | Ivano-Frankovsk, Ukraine |
| Home | Prague, Czech Rep |
| Style | Impressionist |
Whether he is painting brooding beauties or phantom landscapes, Taras Loboda has a way of using color that seduces the senses.
The son of a famous artist, I.I. Loboda, is one of three Ukrainian artists in the Roger Yost Gallery who draw their inspiration from the exciting world that has emerged in Prague, the Czech Republic's "City of Spires."
The others: Andrej Chernysh and Vladimir Fechyk. Chernysh continues to live in the Ukraine, but Loboda and Fechyk moved permanently to Prague in 1993, and have become major leaders in the Czech cultural community.
Loboda's women, with sad eyes and exaggerated Angelina Jolie lips, are usually adorned with vivid scarves, hats or floral concoctions, and command a long, intriguing examination.
His "lakescapes", with reflections of wild, colorful vegetation and flowers, suggest an enchanting radiance that may be at the end of an elusive rainbow.
Loboda, born in Ivano-Frankovsk, Ukraine, a classically trained graduate of the Institute of Art in Kiev, has found his place in the European post-modernist art space and consistently defends it.