Samantha K. Smith Biography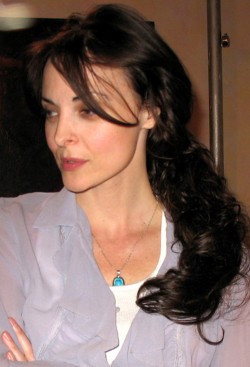 Samantha K. Smith
| | |
| --- | --- |
| Born | |
| Birthplace | England |
| Home | New York |
| Style | Abstract |
Taking inspiration from personal experiences, and music and classic literary sources, as much as from the art world itself, this 39-year-old British-born, New York-based artist is one of the most intriguing anomalies on the current American art scene.
Side-stepping "Vogueish" and self-conscious conceptual approaches, Ms. Smith creates a powerfully distinctive and eerily pure visual identity through using traditional forms of painterly expression in a profoundly personal way.
After losing her mother to cancer and experiencing her own near-death from acute pancreatitis that hospitalized her for four months toward the end of her studies at Rutgers' Mason Gross School of Arts, Ms. Smith spent almost 8 years painting in isolation.
When she emerged, the work she unveiled showed a wonderful and consistent sense of troubled beauty and disrupted hopes.
"It was tender, human and chillingly romantic, drawing from Manhattan's urban intensity, while possessing an instinctive understanding of the elemental," says gallery owner Roger Yost. "Her ambitious paintings exhibit primal passions and vivid imagined landscapes. A resonant, fluid and universal art that is at once strikingly new, yet strangely familiar."
Says Ms. Smith: "In my work I investigate the necessity of opposing elements. To appreciate beauty and light, one must embrace the dark truths of our lives . . . as the innate pull toward hope. Light and dark, order and chaos, the cerebral and the instinctive. Each requires the other."