Biography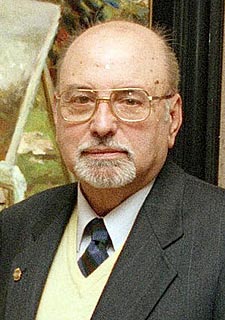 Jose Puyet
| | |
| --- | --- |
| Born | April 22, 1922 |
| Birthplace | Malaga, Spain |
| Death | August 28, 2004, Madrid |
| Style | Romantic Impressionism |
José Puyet, one of the best-known Spanish painters of the twentieth century, was the grandson of the famous Jose Padilla, who introduced him to late impressionism, the style which was to shape the figurative nature of his creations.
He trained as a painter in Madrid, often scraping out a living with graphic designs for packaged perfumes and creams, and painting pictures to decorate crypts and mausoleums. After serving in World War II, he travelled throughout Europe, observing and painting all kinds of personalities and ambiences.
As he advanced in the Spanish art world, he would exhibit in Madrid and Barcelona, where he was known as "Maestro Puyet," and eventually in Berlin, Munich, Hamburg, and major American cities.
His oil paintings were almost always portraits of beautiful, voluptuous women on backgrounds in which all the elements are aimed at creating an ambience that complemented the central representation.
It was this particular style which made him famous and earned him public and critical acclaim the world over in many individual exhibitions, and which also earned him awards such as one he received from the San Telmo Royal Academy in Seville.
Francisco Prados de la Plaza, journalist and professor at Madrid's Universidad Complutense, says that on observing Puyet's paintings "...One's retina is impressed with and immersed in scenes, colors, a pleasing and beautiful ambience, which lead one to reflect upon the importance in painting of the balance of linear and color sensations presented with a magnificent and well-constructed drawing."
His paintings hang in the House of Grimaldi in Monaco and museums in Europe and America.