Noah Elias Biography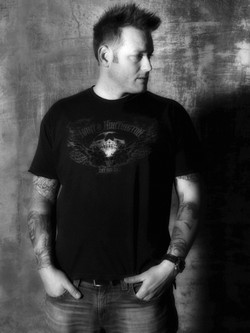 Noah Elias
Born and raised in the heart of Orange County, California, the artist known simply as Noah has been creating collectible artwork for years. The "stages" of Noah's life begin with his earliest memories: his grandmother's rose garden, his mother's floral designs, watching his father paint for hours on end.
Noah was still in school when he started winning awards for his work, and just 16 when he committed to a life and career as an artist.
With no formal training but a ton of raw talent, Noah began taking on commercial work of every variety. In the early '90s he was known for setting up his easel at local coffee shops and painting portraits of famous celebrities. His work captured the attention of Nicole Kidman, Tom Cruise, Val Kilmer, ZZ Top and the Black Crows.
As recognition grew, so did his roster of clients (Levi's, Alpine, Lexus) and collectors including CEO's and celebrities. In 2004 Noah was asked to paint the famous pink "Suki" car in Universal Pictures 2 Fast 2 Furious.
"As a child I spent many days wandering Main Street in Disneyland, enjoying the magical world Walt Disney created," explains Noah. "I have been blessed with the unique opportunity to create art that helps carry on the Disney dream."
Noah's original Disney character portraits, crafted in his signature Asian-influenced, monochromatic paint style, are carefully rendered compositions, then over-painted with more exuberant effects.