Andres Palacios Biography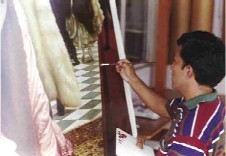 Andres Palacios
| | |
| --- | --- |
| Born | 1958 |
| Birthplace | Ancash, Peru |
| Home | Lima, Peru |
| Style | Impressionist |
Andres Palacios born in Ancash, Peru, in 1958, is a graduate of Lima's the Superior National School of Bellas Artes, where he also served as an art teacher.
He studied Theology for three years at a Lima seminary, but decided to pursue a career in art before completion.
Andres never abandoned his deep sense of spirituality, however, which is reflected in many of the paintings which he signs "Maria" or "Palach". His Madonnas are rich with embellishments, achieved through many layers of paint and texturizing, and that evoke a wonderfully romantic and Old World feeling.
A prolific artist, Andres Palacios paintings can be found in collections and galleries around the world, and exclusively at the Roger Yost Gallery in the American Northwest.