Mark Lundeen Biography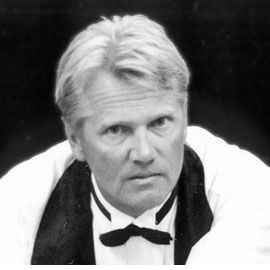 Mark Lundeen
Mark Lundeen is a highly realistic sculptor and a natural born storyteller—stories that are reflected in the characters portrayed in bronze with a fine sense of detail and fluid lines, balance and integrity. His work has a strong physical presence, whether it is an aggressive athlete, a cowboy, a pensive elder or a shy child
A native of Holdrege, Nebraska, Mark was educated at the University of Nebraska in Kearney and received a Bachelor of Science degree in Business. After graduating from college, Mark spent eight months in Europe studying the old masters. In 1981, he moved to Loveland, Colorado, established his sculpting studio and began a highly successful career.
He has received numerous awards and honors that include being selected as the University of Nebraska Alumnus of the Year in 1996. He has received the Philip Isenberg Award from the Allied Artists of America in New York City for his sculpture "Ragtime Cowboy Joe" and Westword Magazine of Denver, Colorado awarded him Best Sculpture in a Public Place for his "Mighty Casey".
Magazine articles about Mark and his sculpture have appeared in Sports Illustrated, Southwest Art Magazine, Taos Magazine, Newsweek, Western Horseman, Fine Art Collector Magazine and Revue Magazine.
The most notable of Mark's work is the sculpture of Jack Swigert, of Apollo 13 fame. Mark was chosen to create the monumental sculpture to be placed in the National Statuary Hall of the Capitol Building in Washington D.C. Other monumental and life-sized commissioned pieces include placements at Little League Headquarters, Williamsport, Pennsylvania, Amarillo International Airport, Amarillo Civic Center, Amarillo, Texas, Arlington Ballpark, Arlington, Texas, Pro Player Stadium in Miami, Baseball Hall of Fame, McDonalds® headquarters, Denver International Airport, and various universities, colleges and libraries across the United States.