About Lacquer Art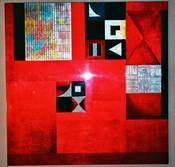 Lacquer Art
Vietnamese lacquerart has a history that dates back 2000 years.
In Phu Tho Province, in northern Vietnam, resins are harvested from the Rhus Succedanea tree and converted into natural lacquer, which is then applied to paintings and fine art
The traditional lacquer process is complex and requires 75 to 115 days to complete each piece. Any imperfections in the wood are first sealed with lacquer. The wood is then covered with cotton gauze, which in turn is covered with a thick mixture of sawdust, alluvial soil, finely ground rock, and additional lacquer. After drying, the surface is sanded smooth under water. It is then painted with a mixture of alluvial soil and lacquer and wet sanded. The coating and sanding is repeated at least two more times.
At this point, the artwork is applied to the piece by hand, using any combination of paints, mother of pearl, seashell, eggshell and other materials.
The finishing touches include painting the art or design with clear lacquer, and the background with solid lacquer. After drying, the artwork is then entirely coated at least two more times with clear lacquer.
Finally, it is highly polished with wax.
Lacquered items have been found in ancient tombs in Vietnam dating back to the third and fourth centuries B.C.