Harrison Ellenshaw Biography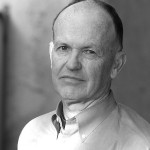 Harrison Ellenshaw
| | |
| --- | --- |
| Born | |
| Birthplace | |
| Home | |
| Style | |
Many sons of famous people often choose to follow their own paths in life. "That was me," says the son of Disney Legend Peter Ellenshaw, who won an Oscar for his visual effects work on Mary Poppins. "I found both my father's passion and incredible talent intimidating."
So Harrison majored in psychology at Whittier College and entered the working world with the country in the throes of a recession. Peter encouraged his son to temporarily take work as an apprentice in the Disney matte department. He agreed to give it six months.
Department Head Alan Maley became his mentor, Harrison says, and it was "due to his enthusiasm and encouragement that I really got bitten by the film bug. It was Alan who showed me what was so special about film -- about matte paintings; how one's work on shots could be an integral part of telling a story."
After four years, Maley retired, and Harrison was named to succeed him, an appointment that usually goes to a much more experienced journeyman.
Then fate smiled on Harrison—he was asked to do work on Star Wars—work that was so well received that he was asked to return to work on The Empire Strikes Back. By this time, having clearly carved a niche for himself, Harrison had no problem working with his father on Disney's The Black Hole in 1979. Harrison then went solo again, adding an unforgettable touch to Tron, a visually stunning film that would become a cult classic.
In 1989, Harrison created vivid matte paintings for Dick Tracy. The matte paintings were visually the star of that film, he recalls. "It was around that time when I was working on this incredibly colorful film that an exhibition of Fauve artists came to the Los Angeles County Museum of Art," Harrison recalls. Fauve, French for wild beasts, was a name given to a group of rebel French artists in the 1900s. The Fauve painters—including Henri Matisse and Andre Derain--took a traditional art form and began painting familiar objects with startlingly intense colors.
"They had done something I really enjoyed and appreciated," said Ellenshaw, who began to paint far more colorfully than in the past. "Today, I enjoy painting as much as ever, and especially doing things that are really colorful."
The Roger Yost Gallery's Ellenshaw rendering of A Promise Fulfilled from the Pixar Collection Up reflects that enjoyment.