Guy Dessapt Biography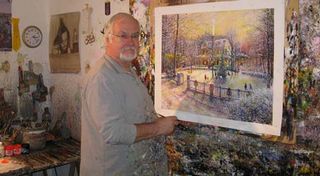 Artist Guy Dessapt
| | |
| --- | --- |
| Born | July 6, 1938 |
| Birthplace | Central France |
| Home | France |
| Style | Impressionist |
The works of this Frenchman are highly prized by art connoisseurs worldwide.
In Japan, Dessapt is considered part of the Paris School which includes such renowned artists as Marc Chagall, Roger Bonafe, Roul Icart, Bernard Buffett and George Laporte.
He spent many of his early years painting in the streets of Montmartre, attended the highly acclaimed "Art Decoratifs" school in Paris, and fell in love with the city.
Dessapt also spent a great deal of time traveling throughout Europe, capturing the spirit of each place he would visit. In the 1960s, he spent seven years in New York and explored a variety of artistic techniques.
The technique he developed, blending acrylics and oils with texturing compound, creates a rich surface texture and brilliant colors in well balanced compositions. His paintings seem to shimmer with specks of pure color, forming stunning reflections and somber shadows.
His pieces evoke strong, seemingly romantic emotions difficult to explain.
After experiencing tremendous success in the U.S., Dessapt moved back to the French countryside in the house his grandfather built and now paints only one or two pieces a year in the traditions that inspired him in his youth: Those of French impressionists and the street painters of Paris.
We are proud to be the only gallery in Oregon to display the original oils of this brilliantly talented individual who will eventually be recognized as one of the great artists of his time.