Georgy Kurasov Biography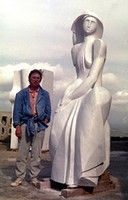 Georgy Kurasov
| | |
| --- | --- |
| Born | 1958 |
| Birthplace | St. Petersburg, Russia |
| Home | St. Petersburg, Russia |
| Style | Cubism |
Georgy Kurasov was born in St. Petersburg, Russia in 1958. At the age of twelve he entered the prestigious St. Petersburg Art School for gifted children, an affiliate of the Russian Academy of Fine Arts. Georgy's acceptance was an enormous compliment to his talents. At the School the students were trained in all aspects of academic drawing, including human anatomy, while simultaneously completing middle and high school programs. Here formed the basis of Georgy's fantastic understanding of the human form, which so characterizes his work today.
Georgy graduated from the Art School in 1976 with the highest grade in his class. Within a month he was admitted to the renowned Academy of Fine Arts in St. Petersburg to study sculpture, where, at eighteen, Georgy was more than ten years the junior of his classmates. While at the Academy, Georgy also excelled in painting, and procured a number of important commissions, to include an award-winning series of monuments located along the Helsinki - St. Petersburg Highway, a monument to a Russian artist killed during World War II, and a memorial statue of the famous Ukrainian poet, Taras Shevchenko, unveiled in 1981 in the central square of the Ukrainian city of Konotop.
That same year, he married Zinaida (Zina), a Russian ice ballerina, who became the model for many of his works. In 1982, he graduated with a Master of Fine Arts degree in Sculpture and Painting and was invited to join the exclusive Russian Union of Artists.