Biography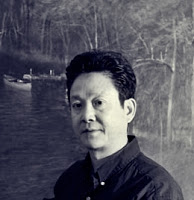 Ming Feng
| | |
| --- | --- |
| Born | 1957 |
| Birthplace | Guangzhou, China |
| Style | Impressionism |
| | |
Ming Feng began seriously pursuing fine art since he was a teen-ager, which led him to the Guangzhou Academy of Fine Arts, where he studied artistic theories and Chinese and Western art philosophy. Ming achieved prominence as an acclaimed artist in his native China before emigrating to the United States in 1988.
He began his professional career as a stage designer with the Modern Drama Troupe of Guangzhou. Later, he worked for the Guangzhou Art Design company where he created layouts, advertisement designs, product placards, and book illustrations.
In 1984 he became a member of the Chinese Artist Association, the nation's most prestigious art organization. His early paintings are in a permanent collection in the Guangzhou Fine Art Museum, and many were reproduced in books, magazines, newspapers and calendars.
After emigrated to the United States his work was quickly recognized by collectors and critics. Ming was featured in several articles including "Rising Star of the Art World" by Debbie Hagan, and later in a 1999 article by Ms. Hagan entitled "The Lure of the Sea." In 2000, he was featured in "Landscape of Romance" by Marguerite Smolen.
In 1998, the Disney corporation commissioned Ming to create an oil painting for their Grand Floridian Resort, which is now part of the company's permanent collection. In recent years, numerous international organizations have produced calendars featuring Ming Feng's art.
Ming masterfully employs impressionistic techniques, reflecting a great awareness and sensitivity to light, combined with saturated color, all within a decidedly poetic composition. His work has become highly prized by collectors worldwide and can be found exclusively in the Pacific Northwest at the Roger Yost Bay Street Gallery in Newport, OR.