Artist Brian Davis - Biography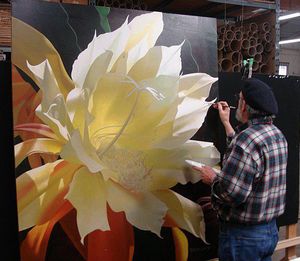 Brian Davis
| | |
| --- | --- |
| Born | 1946 |
| Birthplace | Los Angeles |
| Home | Southern California |
| Style | Photo Realism |
Known for his magnificent flowers, Brian Davis transforms exquisite blossoms like roses, calla lilies and dahlias into romantic, compelling images with sharpness, color, movement and light.
Davis carries his camera everywhere so he can shoot a flower or landscape at any moment. Since flowers wilt so quickly, and it can take weeks to make a painting, the artist has found a way to create his floral image from a series of different shots for each flower. He may not do an exact botanical rendering, changing colors and leaves at will.
The artist is often asked if there is a light source behind each of his paintings that give them a luminescent quality. "The light is the real subject of my work," he says. "The flower is the stage, the light is the dancer."
Greatly influenced by the Dutch Masters, along with the artists of the Art Nouveau and Art Deco periods, Davis is inspired by images of highly stylized renditions of birds and flowers and their intensity of color achieved by many layers of paint.
The artist begins his paintings with the darkest shades of colors, representing the background, and then proceeds to bring layers upon layers of colors "forward," to achieve the three-dimensional quality of his technique, known as "value painting."
A native Californian, born into a family of musician parents in 1946, Davis has loved art all of his life. He was formally educated in Fine Art at Pierce College and California State University-Los Angeles.