Bill Morrison Biography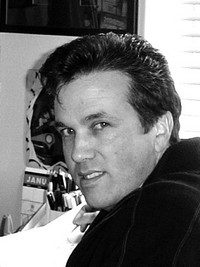 Pixar Artist Bill Morrison
| | |
| --- | --- |
| Born | |
| Birthplace | |
| Home | |
| Style | ` |
Roger Yost introduces a newcomer to the gallery, but no stranger to fans of Oregonian Matt Groening, a former next-door neighbor to the gallery owner when both lived in Portland's West Hills.
Although most famous for his work featuring The Simpsons, Bill Morrison began his career as an illustrator, painting memorable movie posters for Walt Disney Pictures' Bambi, Cinderella, Peter Pan, The Jungle Book, The Prince and the Pauper and The Little Mermaid.
When The Simpsons' creator Groening founded Bongo Comics, he hired Morrison as art director. Bill drew the very first Simpsons comic story and had a hand in every Bongo comic book to date, either writing, penciling, drawing or supervising. Morrison also worked with Matt's early character designs for the TV show Futurama and served as the series art director.
In his spare time, Bill has written and drawn his own comic book series, the four-time Eisner Award-nominated Roswell, Little Green Man, and co-created two comic book series; Heroes Anonymous, and Lady Robotika, the latter with Jane Wiedlin of the legendary all-female rock band, The Go-Go's.
Bill's contribution to The Pixar Collection in the Roger Yost Gallery pays homage to the most comic book inspired film of them all, The Incredibles. With a creative nod to the historic cover of Teen Titans #1, Bill infuses all the action and promise of adventure found on classic comic book covers.