Adriana Naveh Biography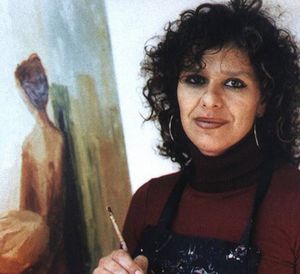 Artist Adriana Naveh
| | |
| --- | --- |
| Born | |
| Birthplace | Argentina |
| Home | Israel |
| Style | Abstract Expressionism |
Argentine-born Adriana Naveh's use of an interesting medium –plaster spackle mixed with acrylic paints—gives new meaning to simplicity and elegant composition.
The highly collectible artist, who emigrated to Israel in 1995, creates a three-dimensional effect with her palette knife in work described as abstract expression.
Women are frequently explored subjects in her art, highlighted against architectural backdrops, and usually accompanied by a bicycle. In much of her art, Naveh (pronounced Na-VAY) introduces single figures to represent intimacy and strength, not loneliness.
She employs both light and shadow to create a striking visual effect, emphasizing the brilliance of daily life, and the importance of routine.
Naveh received a degree in fine arts at De Cuyo University in 1984, and later studied etching and drawing under Ian Rauchwerger and the influential Israeli artist Calman Shemi, perfecting her skills and broadening her techniques. She continues to work in Shemi's studio to this day and has been teaching art in various institutions throughout the country.